Yarn ~ Yarn ~ Yarn
Large supply of cone yarn, expressly for machine knitting. Acrylics, Cottons and Blends in stock, including: Bramwell™, Denys Brunton™, Tamm™, Millor™, Yarn Country™, Mary Lou™, and Conshohocken™. We also welcome special orders.
Knitting Machines
Yarn
Books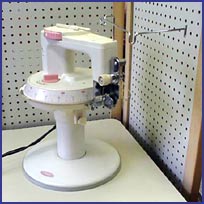 Books for the LK150
Knitwell series, $3.90 each
"Do It On A Double Bed" by Mary Anne Oger, $19.95 (pullovers, vest, skirts, more)
Books by Irene Woods:

LK150 Classics for Babies" $10.95
LK150 Classics" 19 basic patterns for men, women & children, $11.95
LK150 Fair Isle Yoke Cardigans" $11.95
Punch Embroidery
All punch kits on sale for $5.00. Quantities limited.
Sequins by the yard in limited colors
New punch embroidery designs:
Animals ~ Christmas ~ Southwestern ~ Flowers ~ Birds ~ Butterflies
Hundreds of patterns at just $1.00 each!
Serving the greater Cleveland area and northern Ohio
Hours:
Wednesday, Thursday, and Friday
10:00 a.m. to 5:00 p.m.
E-mail us anytime for more information about machines, books, or supplies we have in stock.
Members of the Garrettsville Chamber of Commerce
and Mahoning Valley Machine Knitters Guild
Mahoning Valley Machine Knitters Guild meets the last Monday of each month at 7 p.m. (except December) at Denny's in Austintown, Ohio. Guests and knitters of all machines are welcome.
Since 1988
~ Family Owned and Operated ~

---
Expressly for You
11485 Kyle Road
Garrettsville, OH 44231

Phone: (330) 527-4173
---